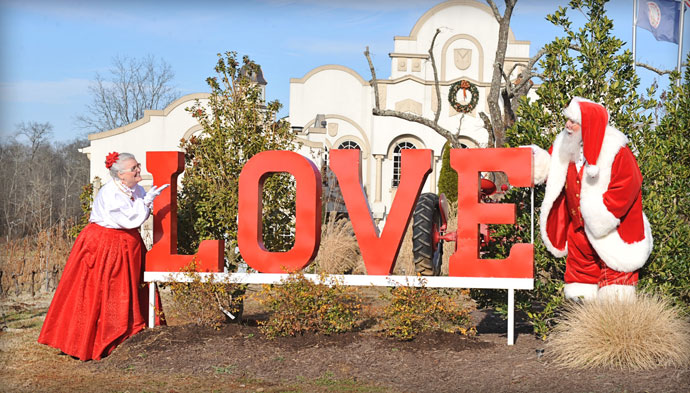 TIPS FOR SANTA'S VISIT
Cameras Ready! – Full charged batteries !
Santa Parking? Santa is getting older, so please don't make him walk far. A reserved spot at the end of the driveway or near the entry is a great place to place a "Reserved for Santa" sign.
Have your gifts ready! Please label each gift in large print to make it easy for Santa to read!. They should fit into a 30 gallon bag, ready to transfer to Santa's bag, just before entering. PLEASE make sure there is a gift for every child!
Timing is Important! Santa will call approximately 5 minutes before arriving. Gather everyone together in a central area to welcome Santa!
Santa's Helpers. Designate a helper to assist Santa & Mrs. Claus with introducing the children by name, especially with large groups.
Seating. Please provide a STURDY CHAIR for Santa & Mrs. Claus. A straight backed chair works best as Santa likes to sit on the front of the chair "up wide" to accommodate the children on his knees.
Location, Location, Location! This one feature can make your photos the hit of the season! Your Christmas tree, wreath or any other festive decorations will make an excellent background for your photos. Just remember to leave room between Santa & Mrs. Claus' chairs and leave room behind the chairs for additional folks to be in the photos.
Payment Envelope. It is never appropriate to hand money to Santa where others might see. A Christmas card from all (with payment included) is appropriate. Gratuities are welcome and appreciated.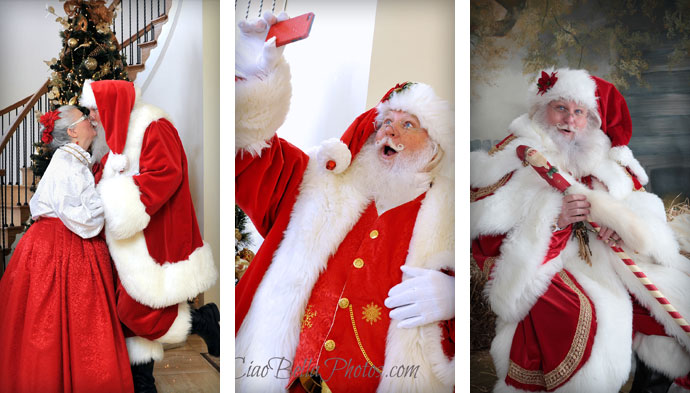 COOKIES AND MILK GO BEST
WITH ALL MY FAVORITE BOOKS
The Night Before Christmas
by: Clement C. Moore/Illus: Mary Engelbreit
A Special Place for Santa – A Legend for our Time
by: Jeanne Pieper
It's A Wonderful Life – for Kids
by: Jimmy Hawkins
Bear Stays Up For Christmas
by: Karma Wilson & Jane Chapman
One Snowy Night
by: M. Christina Butler & Tina McNaughton
Santa Claus
by: Rod Green
Polar Express
by: Chris Van Allsburg
Christmas Treasury – Family Classic Edition
by: Publications International, Inc.
A Christmas To Remember
by: D. Morgan
Santa and the Christ Child
by: Nicholas Bakewell
Once Upon a Christmas Time – A Feast of Seasonal Stories & Poems
by: Hutchinson Children's Books
Can You See What I See – The Night Before Christmas (I Spy)
by: Walter Wick
The Flight of the Reindeer – The True Story of Santa Claus & His Christmas Mission
by: Robert Sullivan
The Autobiography of Santa Claus
by: Jeff Guinn
How Mrs. Claus Saved Christmas
by: Jeff Guinn
The Great Santa Search
by: Jeff Guinn
Santa's Gift
by: Jeffrey W. Comment
True Stories of Courage, Humor, Hope & Love
by: Jeffrey W. Comment
The Tiny Angel
by: Elizabeth Koda-Callan
The Classic Christmas Treasury for Children
by: Louise Betts Egan
Santa – My Life and Times
by: Martin I. Green

ON A COLD WINTER'S NIGHT, GATHER WITH FAMILY
AND WATCH ONE OF MY FAVORITE MOVIES.
It's a Wonderful Life – (1946, Frank Capra) (James Stewart, Donna Reed, Lionel Barrymore)
Miracle on 34th Street – (1947, George Seaton) (Edmund Gwenn, Maureen O'Hara, Natalie Wood)
Scrooge (aka A Christmas Carol) – (1951, Brian D. Hurst) (Alastair Sim, Meryvn Johns, Michael Hordern)
Holiday Inn – (1942, Mark Sandrich) (Bing Crosby, Fred Astaire, Marjorie Reynolds)
Scrooge – (1970, Ronald Neame) (Albert Finney, Alec Guinness, Edith Evans)
A Christmas Carol – (1938, Edwin L. Marin) (Reginald Owen, Gene Lockhart, Leo G. Carroll)
White Christmas – (1954, Michael Curtiz) (Bing Crosby, Danny Kaye, Rosemary Clooney)
Scrooge – (1935, Henry Edwards) (Sir Seymour Hicks, Maurice Evans, Robert Cochran)
How the Grinch Stole Christmas – (1966) (TV) (Animated) (Boris Karloff as voice of the Grinch)
Rudolph the Red-Nosed Reindeer – (1964) (TV) (Animated) (Narration by Burl Ives)
A Christmas Carol – (1984, Clive Donner) (TV) (George C. Scott, David Warner, Susannah York)
A Christmas Story – (1983, Bob Clark) (Darrin McGavin, Melinda Dillon, Peter Billingsley)
The Bishop's Wife – (1947, Henry Koster) (Cary Grant, Loretta Young, David Niven)
A Charlie Brown Christmas – (1965, Bill Melendez) (TV) (Animated)
A Christmas Wish (aka The Great Rupert) – (1950, Irving Pichel) (Jimmy Durante, Terry Moore)
Beyond Tomorrow – (1940, Edward Sutherland) (Richard Carlson, Jean Parker, Charles Winninger)
A Christmas Carol – (1999, David Hugh Jones) (TV) (Patrick Stewart, Richard E. Grant, Joel Grey)
The Muppet Christmas Carol – (1992, Brian Henson) (Michael Caine, Dave Goelz-voice)
Christmas in Connecticut – (1945, Peter Godfrey) (Barbara Stanwyck, Reginald Gardiner, S.Z. Sakall)
The Christmas Wife – (1988, David Hugh Jones) (Jason Robards, Julie Harris, Patricia Hamilton)
The Nightmare Before Christmas – (1993, T. Burton) (Animated) (Chris Sarandon, Catherine O'Hara)
Scrooged – (1988, Richard Donner) (Bill Murray, John Forsythe, Karen Allen)
Christmas Vacation – (1989, Jeremiah S. Chechik) (Chevy Chase, Beverly D'Angelo, Randy Quaid)
A Christmas Without Snow – (1980, John Korty) (Michael Learned, John Houseman)
Home Alone – (1990, Chris Columbus) (Macaulay Culkin, Joe Pesci, Daniel Stern)
An American Christmas Carol – (1979, Eric Till) (TV) (Henry Winkler, David Wayne, Dorian Harewood)
Elf – (2003, Jon Favreau) (Will Ferrell, Zooey Deschanel, James Caan)
The Christmas Star – (1986, Alan Shapiro) (Edward Asner, Rene Auberjonois, Jim Metzler)
Silent Night – (Canada) (2002, Rodney Gibbons) (Linda Hamilton, Romano Orzari, Martin Neufeld)
A Christmas Visitor – (2002, Christopher Leitch) (William Devane, Meredith Baxter, Dean McDermott)
Prancer – (1989, John D. Hancock) (Sam Elliott, Cloris Leachman, Rutanya Alda)
The Year Without a Santa Claus – (1974) (TV) (Mickey Rooney, Shirley Booth)
A Christmas Wish – (1998, Ian Barry) (TV) (Debbie Reynolds, Neil Patrick Harris)
The Santa Clause – (1994, John Pasquin) (Tim Allen, Wendy Crewson, Judge Reinhold)
Home Alone 2: Lost in New York – (1992, Chris Columbus) (Macaulay Culkin, Joe Pesci, Daniel Stern,)
Mrs. Santa Claus – (1996, Terry Hughes) (TV) (Angela Lansbury, Charles Durning, Michael Jeter)
Santa Claus – (1985, Jeannot Szwarc) (Dudley Moore, John Lithgow, Burgess Meredith)
The Fourth Wise Man – (1985, Michael Ray Rhodes) (TV) (Martin Sheen, Alan Arkin, Eileen Brennan)
All I Want for Christmas – (1991, Robert Lieberman) (Harley Jane Kozak, Leslie Nielsen, Lauren Bacall)
Christmas with the Kranks – (2004, Joe Roth) (Tim Allen, Jamie Lee Curtis, Dan Aykroyd)
Eve's Christmas – (2004, Timothy Bond) (TV) (Elisa Donovan, Sebastian Spence)
A Boyfriend for Christmas – (2004, Kevin Conno) (TV) (Kelli Williams, Patrick Muldoon, Charles Durning)
I'll Be Home for Christmas – (1998, A. Sanford) (Jonathan Taylor Thomas, Jessica Biel, Adam LaVorgna)
How the Grinch Stole Christmas – (2000, Ron Howard) (Jim Carrey, Taylor Momsen)
Emmet Otter's Jug-Band Christmas – (1977) (TV) (Muppets, voices of Jerry Nelson, Frank Oz, Jim Henson)
Jack Frost – (1998, Troy Miller) (Michael Keaton, Kelly Preston, Joseph Cross)
A Christmas to Remember – (1978) (TV) (Jason Robards, Eva Marie Saint, Joanne Woodward)
I Saw Mommy Kissing Santa Claus – (2002, John Shepphird) (Connie Sellecca, Corbin Bernsen)
The Angel Doll – (2000, Alexander Johnston) (Betsy Brantley, Beatrice Bush, Pat Hingle)
A Smoky Mountain Christmas – (1986, Henry Winkler) (TV) (Dolly Parton, Lee Majors, John Ritter)
Yes Virginia, There Is a Santa Claus – (1991, Charles Jarrott) (TV) (Richard Thomas, Edward Asner)
Frosty the Snowman – (1969) (TV) (Animated, narration by Jimmy Durante)
Christmas in My Hometown – (1996, Jerry London) (TV) (Tim Matheson, Melissa Gilbert, Travis Tritt)
The Miracle of the Bells – (1948, Irving Pichel) (Fred MacMurray, Alida Valli, Frank Sinatra, Lee J. Cobb)
The Life & Adventures of Santa Claus – (1985, Jules Bass, Arthur Rankin Jr.) (TV) (Animated)
A Carol Christmas – (2003, Matthew Irmas) (TV) (Tori Spelling, Dinah Manoff, William Shatner)
Miracle on 34th Street – (1994,Les Mayfield) (Richard Attenborough, Elizabeth Perkins, Dylan McDermott)
It Happened One Christmas – (1977) (TV) (Marlo Thomas, Orson Welles, Cloris Leachman)
The Night They Saved Christmas – (1984, Jackie Cooper) (TV) (Jaclyn Smith, Art Carney, June Lockhart)
Jingle all the Way – (1996, Brian Levant) (Arnold Schwarzenegger, Phil Hartman, Rita Wilson)
A Mom for Christmas – (1990, George Miller) (TV) (Olivia Newton-John, Juliet Sorcey, Doris Roberts)
One Magic Christmas – (1985, Phillip Borsos) (Mary Steenburgen, Gary Basaraba, Harry Dean Stanton)
Christmas Eve – (1986, Stuart Cooper) (TV) (Loretta Young, Arthur Hill, Trevor Howard)
Holiday Affair – (1949, Don Hartman) (Robert Mitchum, Janet Leigh, Harry Morgan)
Christmas Mountain – (1981) (Mark Miller, Slim Pickens, Barbara Stanger)
The Nutcracker – (1993, Emile Ardolino) (Macaulay Culkin, Darci Kistler)
It Came Upon the Midnight Clear – (1984) (TV) (Mickey Rooney, Scott Grimes, Annie Potts)
The House Without a Christmas Tree – (1972) (TV) (Jason Robards, Lisa Lucas, Mildred Natwick)
Mixed Nuts – (1994, Nora Ephron) (Steve Martin, Madeline Kahn, Adam Sandler, Robert Klein)
The Holly and the Ivy – (1952, George More O'Ferrall) (Ralph Richardson, Celia Johnson, Denholm Elliott)
It Nearly Wasn't Christmas – (1989, Burt Brinckerhoff) (TV) (Charles Durning, Beverly Rowland)
Single Santa Seeks Mrs. Claus – (2004) (TV) (Steve Guttenberg, Crystal Bernard)
Meet the Santas – (2005) (TV) (Steve Guttenberg, Crystal Bernard, Marcia Ann Burrs)
Miracle Down Under – (1987) (TV) (Dee Wallace-Stone, John Waters)
The Kid Who Loved Christmas – (1990) (TV) (Cicely Tyson, Michael Warren, Della Reese, Ben Vereen)
The Gift of Love: A Christmas Story – (1983, D. Mann) (TV) (Lee Remick, Angela Lansbury, Polly Holliday)
Christmas on Division Street – (1991) (TV) (Fred Savage, Hume Cronyn, Kenneth Welsh)
The Christmas Stallion – (1992) (TV) (Daniel J. Travanti, Lynette Davies)
The Homecoming: A Christmas Story – (1971) (TV) (Patricia Neal, Richard Thomas, Edgar Bergen)
Dear Santa – (1998, Fred Olen Ray) (D.L. Green, Harrison Myers)
Angel in the Family – (2004) (TV) (Meredith Baxter, David Chisum, Ronny Cox)
The Gathering – (1977) (TV) (Edward Asner, Maureen Stapleton, Stephanie Zimbalist)
Eloise at Christmastime – (2003, Kevin Lima) (TV) (Julie Andrews, Sofia Vassilieva, Kenneth Welsh)
Ernest Saves Christmas – (1988, John R. Cherry III) (Jim Varney, Douglas Seale, Noelle Parker)
A Christmas Memory – (1997) (TV) (Patty Duke, Piper Laurie, Jeffrey DeMunn)
Mr. Magoo's Christmas Carol – (1962) (TV) (Animated, voices by Jim Backus, Morey Amsterdam)
The Best Christmas Pageant Ever – (1983) (TV) (Loretta Swit, Jackson Davies, Anthony Holland)
A Dream for Christmas – (1973) (TV) (Hari Rhodes, Beah Richards, Lynn Hamilton)
Babes in Toyland – (1961) (Ray Bolger, Tommy Sands, Annette Funicello, Tommy Kirk)
Guess Who's Coming for Christmas? – (1990) (TV) (Richard Mulligan, Beau Bridges)
The Curious Case of Santa Claus – (1982) (TV) (Animated, narration by Jimmy Durante)
Christmas Every Day – (1996) (TV) (Robert Hays, Erik von Detten, Bess Armstrong)
Bush Christmas – (1947, Ralph Smart) (Chips Rafferty, John Fernside)
Beyond Christmas (aka Beyond Tomorrow) – (1940) (Harry Carey, C. Aubrey Smith, Charles Winninger)
A Diva's Christmas Carol – (2000, Richard Schenkman) (TV) (Vanessa L. Williams, John Taylor)
The Twelve Days of Christmas Eve – (2004, Martha Coolidge) (TV) (Steven Weber, Stefanie von Pfetten)
A Flintstones Christmas Carol – (1994, Joanna Romersa) (TV) (Animated)
An All Dogs Christmas Carol – (1998, Paul Sabella) (Animated, voices of Steven Weber, Dom DeLuise)